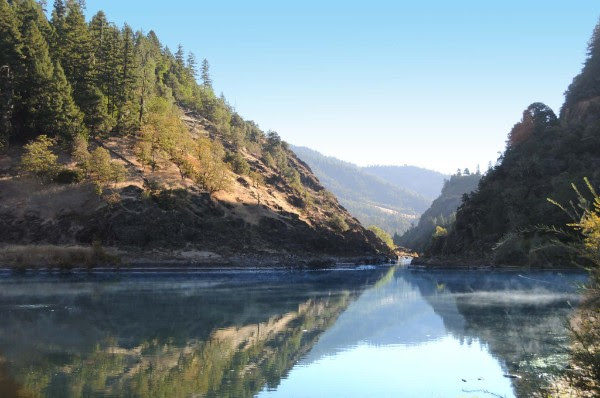 Did Last Year's Wildfires Impact the Rogue River?
Contrary to what you may have heard, our views are unaffected.
Wildfires in Southern Oregon are no joke. The effects of last year's Klondike and Taylor Creek fires are still being felt by local businesses, landowners, and outdoor enthusiasts. There's no denying the implications warmer summers and drier winters are having on our forests, but there are a few things you should know about what you'll find when you visit Morrisons this spring or summer.
---
FACT: The damage sustained from last year's fire is extensive. It is estimated that the Klondike and Taylor Creek fires burned over 211,801 acres of forest land.
FACT: No fire damage is visible from Morrisons Lodge or from any vantage point on any of our multi-day trips.
---
---
FACT: Recent winter storms are bringing unprecedented rain and snowpack. The Medford National Weather Service reports that total rainfall for 2019 is nearly 3 inches above average. The Statesman Journal reports snowpack levels are 117% of normal for this time of year.
FACT: The precipitation trends this winter are putting us on track for an exceptional whitewater rafting season this year and a healthy ecosystem for the fish and wildlife that call the Rogue River home.
---

Our hope is that all of this precipitation will mean great things for all of us this summer. We're grateful for the collaborative efforts of the amazing folks at the US Forest Service and the Bureau of Land Management to help keep us safe and informed when wildfires occur. We're also thankful for the efforts of all the firefighters, and civic, and community organizations that are coming together to make sure we have solid plans in place to deal with the impacts of summer wildfires in our region.
With access to pristine views and robust, healthy water levels all along the Wild & Scenic stretch of the Rogue River, there's no shortage of opportunities for an epic family adventure this spring. What are you waiting for?
Ready to unplug on the river this spring?
View Trips Now
---
Did you know?
Morrisons doesn't just offer guided trips! We also serve as a clearinghouse of information for campers and rafters on the Wild & Scenic Rogue River. If you're making plans for a DIY adventure in our area, be sure to take a look at all the great resources we provide on our Rogue River Adventures website. You'll find geo-referenced campsite maps, trail maps, boater's guides, and information about equipment rentals to make your trip to the Rogue River easy and fun.