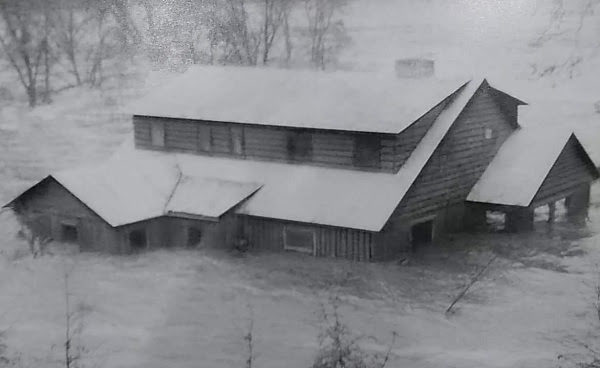 Remembering the 1964 Christmas Day Flood
The Rogue River and Morrisons Lodge Weren't Spared.
Known as one of the most severe rainstorms ever to occur in the state of Oregon, the Christmas Flood of 1964 came very close to destroying the beginnings of Morrisons Lodge. This historic event didn't actually occur on just one day. Rather, it was the result of a series of storms between December 17, 1964, and January 7, 1965, that pummeled Oregon, Northern California, and even parts of Washington, Idaho, and Nevada. The combination of heavy rain (often up to 15 inches within a 24-hour period), the ground frozen by cold temperatures earlier in December, and melting snow caused extreme runoff, erosion, and flooding. The damage was devastating, to say the least. The storm killed 19 people and 4000 head of livestock, destroyed countless highways and bridges, and caused hundreds of millions of dollars in damages for businesses and individuals throughout the state.
It was a memorable Christmas for what would become Morrisons Lodge. The flood caused record-breaking streamflows throughout Southern Oregon. If you've ever visited the lodge, you know how close we are to the Rogue River. The Hanten family purchased the lodge a few months earlier. They had just started fixing up the place, creating the guiding business and destination for outdoor adventurers that still exists today. Once the waters subsided, they were relieved to find the lodge intact, although all of the surrounding cabins were swept away by the force of the mighty Rogue, recorded at 6 million cubic feet per second.
Thanks to the help of a disaster loan, all was not lost. The Hantens repaired the lodge, rebuilt the cabins (this time on stilts), and continued to grow the business, developing the charming character embodied by Morrisons Lodge today. Although there is no visible evidence remaining today, a photograph of the lodge surrounded by high water reminds us of the severity of this historic event. Thanks to the surrounding cottonwoods, a strong foundation, and sturdy construction when the lodge was built by Mr. Lloyd Morrison in 1945, Morrisons Lodge lives on. We couldn't be more honored to continue that legacy.
From all of us at Morrisons Lodge, we wish you a warm and happy holiday. May the season include visions of your next great adventure and appreciation for the majesty of our Rogue River.