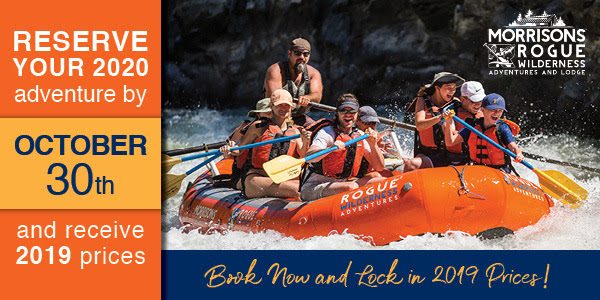 Only 16 Days Left to Get 2019 Prices!
Here in southern Oregon, the leaves are beginning to turn vibrant hues. You can see red, orange, and bright golden-yellow leaves dancing in the breeze and taking over the landscape. The mornings are cold and misty, but the afternoon sun is still bright and warming, it really is a lovely time of year.
We here at Morrisons want to say thank you to all of our guests and adventurers who have shared their summer with us this year, thank you for choosing us! We hope to have you back next year, come see us again on the Wild and Scenic Rogue River!
Our 2020 trip dates are now available so reserve your spot now!
Book before October 30, 2019, and receive 2019 prices.
Before the holiday rush begins, take the opportunity to sink in one last adventure, you can even make it a stay-cation! Morrisons Lodge is the perfect getaway from the hustle and bustle of the city. Bring your family, unplug from the grind, and spend some time reconnecting and making memories. Plan for next year's grand adventure while you are at it!
Why Wait? Book Your Stay-cation Today!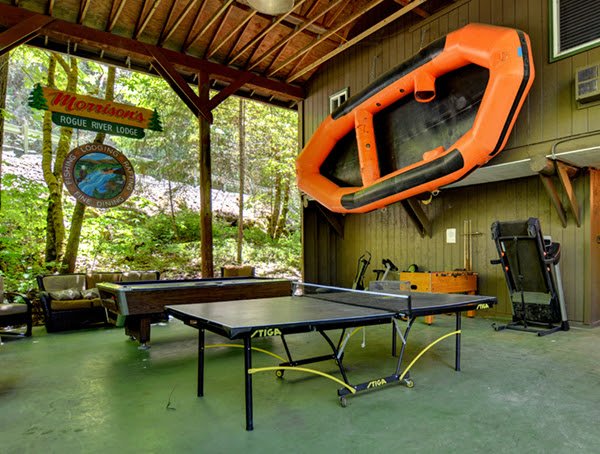 Come stay with us at Morrisons Lodge, you will enjoy the beautiful setting and you can take advantage of the amenities. The grounds include five beautiful acres of river-front lawn, ideal for walks, croquet, or football. Explore our private beach. Hike or bike on nearby trails. The lodge also offers the following amenities and activities: a heated swimming pool, basketball court, volleyball, tennis court, putting green, frisbee golf, horseshoes, and bicycles.
Whether you're looking for the perfect stay-cation or a multi-day outdoor adventure, come spend your getaway time at Morrisons.