Lloyd and Ruth Morrison – The Reason We're Here Today
When you see Morrisons Lodge for the first time, you will no doubt be struck by the natural beauty and tranquil atmosphere that surrounds it, as were the original founders, Lloyd, and Ruth Morrison. When they first came here, they knew it was a special place. River guide and lumber mill worker Lloyd Morrison would take private fishing clients, who were brave enough to make the trek, to this particular bend in the middle Rogue, to fish. Mr. Morrison dreamt of building a lodge at his favorite fishing hole so that he could accommodate these fishermen. Having grown up in Grants Pass, the Morrisons were very familiar with the area, and they enjoyed sharing their favorite parts of Oregon with friends. After a visit from some very encouraging friends from San Francisco, Mr. Morrison was determined to build his dream.
However, building supplies were scarce due to World War II, even nails were hard to come by. With the help of some of his clients from San Francisco, he was able to get what he needed. In 1945 Mr. Morrison had gathered the resources required, and he began to build the lodge. The choice birds-eye pine logs, that you can see in the lodge to this very day, were each handpicked by Mr. Morrison and milled right from the property. Make sure that you take a moment to appreciate the history in these logs when you come to visit us.
In 1946 Morrisons Lodge was opened as Rogue River Rest. The Morrisons were known for their hospitality and warmth, they ran fishing trips along the river, and they added a cabin and brought in two small houses to accommodate all of their guests. One freezing winter, one of the few where the Morrisons' pond actually froze over, The Morrisons took the opportunity to take a bitterly cold winter and turn it into warm laughter. Here you can see Lloyd Morrison holding a can of peas and Ruth Morrison getting ready with her club in their reenactment of an old adage:
How do you catch a fish in the winter?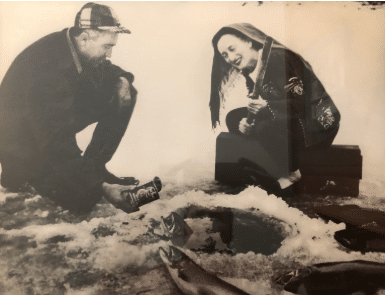 When the fish comes up to pea, you hit them in the ice hole!
The staff at Morrisons Rogue Wilderness Lodge is still just as friendly and fun today as it was when Lloyd and Ruth Morrison first opened the doors in 1946. We welcome you to come and experience for yourself the beauty and adventure of our favorite part of the wild and scenic Rogue River. We have rafting and hiking adventures, and we offer single or multi-day fishing trips.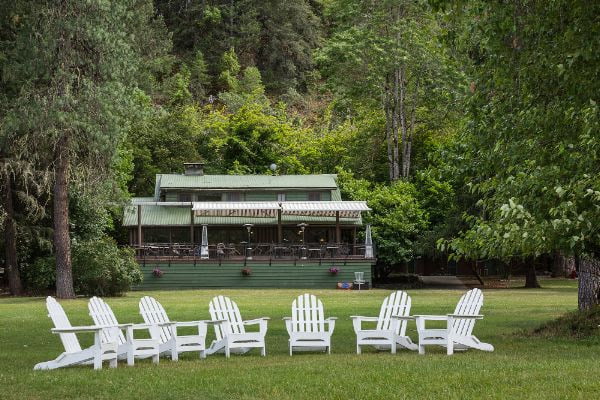 Steelhead fishing is one of the main attractions on the Rogue, the Author Zane Grey wrote about what he called "half-pounders" which are unique to this part of the world. They are immature Steelhead that has gone to the ocean and then returned to the river before they reach adult size. These Steelhead "half-pounders" are very tenacious and fight quite hard when they are caught. The Rogue River is one of only three rivers in the U.S. that can offer you this experience!
What are you waiting for? Summer is here and the next drift boat headed down the wild and scenic Rogue River has your crew's name on it! Start planning your fall fishing trips now and take advantage of your vacation this year! Head on over to our website, the history of Morrisons only gets richer every day with each new adventure that our guests set out on. Begin your history in the making, and let us share ours with you!