Packing for a Rafting Trip – What to Bring
Things to consider when packing for a rafting trip. Insider advice, tips, and tricks.
Whether I am heading out for one night or twenty into a river wilderness canyon, there are some things I've learned to bring that tend to always come in handy when packing for a rafting trip. Some are already on your MRWA packing list, and some are 'extracurricular' items that I have found to be great to have over the years.

1. Good River Shoes
The cheap slip-on things and flip-flops just don't cut it when it comes to walking on slippery river rocks. They do just fine in the raft but provide little to no protection or support when walking on the side of the river. My advice: sturdy sandals or shoes with good tread. Chaco, Teva, and Keen get the job done for sandals, and Solomon makes a great pair of light shoes that dry fast and have great tread. If you don't want to drop the extra dollars just for a few days, old tennis shoes work great. Note: Make sure you're ready to toss them in the dumpster when you're done- river water and sand do more than just break them in.
2. Lotion
Sun, sand, and constant wet-to-dry-to-wet really do a number on your skin. Having some GOOD lotion handy in your overnight bag fixes the dry situation, soothes sunburned skin, and conveniently freshens up that river musk at the end of the day.
3. Extra Plastic Bag for Wet Clothes
I use a standard trash bag, but a large Ziploc will do too. Wet clothes and dry clothes in one rafting bag strangely ALL become 'moist' clothes by the end of the day. If you put all your wet clothes in a plastic bag and seal it, it can prevent the 'not so dry' situation in your bag on night two. Note: Don't forget to take the wet stuff out to dry when you're at camp the next night. Talk about funky…
4. Emergen-C (or whatever you use to boost your immune system)
You're going to sleep somewhere new, spend all day in the sun, sit in the sand, smell the flowers, high-five a friend, and laugh- a lot. Your immune system is about to be challenged. Consider this and bring what you need to help it along.
5. Tape
Yep. Tape. Of course, not your standard 'I work on paper in dry places' scotch tape. I'm talking about something that will hold your shoe (or shorts) together when they take a turn for the worse. Tape that will stay on your body if you find the sharp part of that rock. Tape that can cover your husband's or kids' mouths if four days are just too much. Just Kidding! Duct tape, medical tape (cloth kind), and gorilla tape work great when packing for a rafting trip.
Tip: you don't have to bring the whole roll! Wrap a portion of the roll around a round object you might already be bringing- a pen, hairbrush end, toothpaste tube, etc.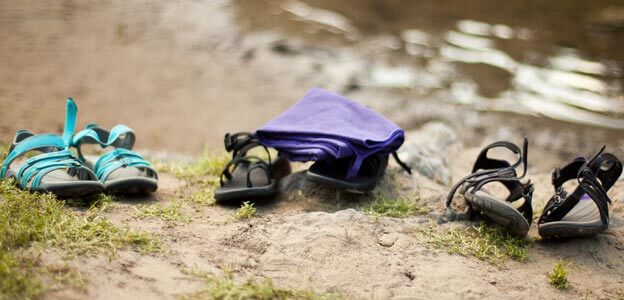 6. Camp 'Slippers'
Your rafting shoes are wet, your hiking shoes are bulky and take forever to put on, and the sand is cold in the morning. You want something to keep your little tootsies warm (and safe) at camp. I love the down-filled booties available at REI, some people like to bring their rubber rain boots and a good pair of socks (note: REALLY bulky in your bag). What you need is something warm and dry-preferably with a sole- for the sometimes chilly mornings on the river.
7. Small Ground Blanket
Half a yoga mat, an unstrapped crazy creek (double purpose!), a small old blanket, or a tarp. What we're looking for here is something not too bulky that you can put on the ground for oh so many purposes. In front of a tent for a barrier between sandy shoes and the inside, a ground cover when you're taking off your wet clothes and don't want to put them in the dirt, a blanket to sit on if you want to wander to your own special spot, and a mat to stretch on (if you're into that sort of thing). I would reserve this as an 'I have a little extra room' item. It's not necessary, but often nice to have.
8. Sarong
Why bring a big bulky towel that collects sand like the Sahara? Sarongs are less than a quarter of the size and work as a towel, a portable changing room, a blanket to sit on, a skirt, for men or women (we don't judge), and a cool piece of headgear. I can't even remember all the times one of these has come in handy.
9. Personal Mug/Cup and Mix-ins for Your Favorite Cocktail or Beverage
Don't worry- we will have plenty of cups available for you throughout the trip, but there is something nice about having your favorite mug warming your hands with a hot cup of coffee or cocoa in the morning. Likewise, we've found that having a nice cup with a cocktail or beverage of choice when you arrive at camp is fantastic as you sit and take in your beautiful surroundings. Guides will have ice, and ice is available at the office if you would like your own personal stash. Note: We will have a drink cooler available for everyone on the trip to store your beverages in, but please avoid glass- it is heavy and breakable. Other note: There is not a great liquor store near our office- we recommend purchasing your beverages BEFORE the day of the trip.
Other things I love to have along in my personal stash: Technu– there's lots of naughty poison oak out there, I like to have my own for easy access. Raincoat -doubles as a guard against splashes on the raft on a chilly day. Beer/soda koozie, Ibuprofen, book/journal/cards, and my favorite warm hoodie/fuzzy for camp- Even in the heat of the summer, it's cold in the morning. Head Lamp, not flashlight- If you're holding a flashlight, you can't use one of your hands to do anything else (very frustrating). A great, not-too-expensive headlamp is the Petzl TIKKA®- I have had many over the years, and they've never let me down (if only I wasn't so good at losing them.).
A Few Tips for the Packing Process
When it comes time to actually pack, it's sometimes hard to decide exactly what to bring. I like to lay everything out first on a large area like a bed. Once I have everything laid out, I make myself get rid of 3 clothing items- although I won't be carrying my bag down the river, I do have to carry it to my tent and back. A great tip I learned along the way is to roll my clothes and pack like items into large ziplock bags- to save space and ensure dryness. Last but not least, it is extremely helpful to pack everything in a small soft duffel bag. If you've made it small enough, when you show up, you can just drop it into the rafting 'dry' bag and call it good.
Below I've copied the packing list provided on our website under 'trip itineraries'.
Clothing List Recommended for All Trips

Swimsuit: May be worn as a first layer
Shorts: quick-drying shorts can double as a swimsuit for men.
Hiking boots, water sport sandals (i.e. Chaco)*
Socks: Polypropylene or wool*
Shirts: long-sleeved is best for sun protection*
Long underwear: Polypropylene, Smart wool, or Capilene
Sweater or jacket: Fleece or Wool
Baseball cap or visor (with strap) for sun protection*
Gear List
Small camp Pillow
Water bottle with strap*
Flashlight or headlamp
Sunglasses with Strap*
Bandana
Insect repellent*
Small towels and toiletries
Baseball cap or visor (with strap) for sun protection*
Medications. If you are in need of bringing a CPAP- please visit www.cpap.com to purchase a battery pack.
Large Ziploc bags for wet gear
Sunscreen*/ lip balm*
Moisturizer/Skin lotion*
Wet Wipes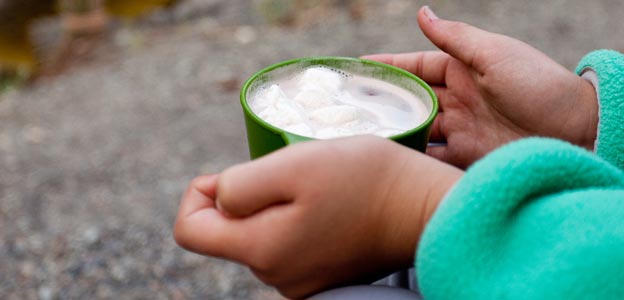 Sometimes Required for Early Season Trips

Long underwear: Polypropylene, Smart wool, or Capilene
Sweater or jacket: Fleece or Wool
Wetsuit (Available from MRWA)
Optional Gear
Bike gloves to protect hands while paddling
Fishing equipment and license
Small zip-lock bags for organizing gear
Disposable/ Waterproof camera*
Dramamine (if prone to car sickness)
Small day pack or fanny pack
Book/ Journal/ Notebook
Good luck with packing for a rafting trip, and we hope to see you on the Rogue River!